Testimonials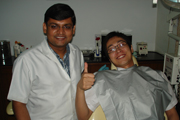 Mr. Tony (China)
"I visited India for some official work and had a severe toothache. I was so afraid where to go? Thankfully I met Dr.Mangla. He made me comfortable immediately, allaying all my fears and completed my treatment with commendable precision. Thanks doc for making me enjoy my food again."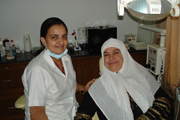 Mrs.Sohaila (Saudi Arabia)
"I had been having gums problems for sometime and felt bad breath really annoying. Dr. Aarti made me understand my problem and corrected my gum disease. Initially I was afraid of getting the gum surgery done but Dr. Aarti was very gentle and reassured me. She performed the procedure nicely and I was relaxed throughout. Now my problem is solved and would be recommending my sister to meet Dr. Aarti."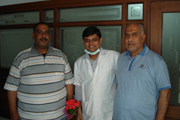 Mr.Mehmood & Mr. Abdul Kareem (U.A.E.)
"We came to India for medical treatment and getting our teeth corrected. We visited Dr. Mangla's to find a solution to our dental troubles. We had short time at hand, and requested Dr.Mangla to accommodate our appointments accordingly. He worked really hard and it was his dedication that Mehmood got an amazing smile makeover and my dental problems were solved in almost no time. We would be recommending our friends definitely to Dr.Mangla's."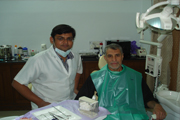 Mr.Fadhil (Egypt)
"I got Dental Implants done and feeling really happy for making a wise decision of getting them done at Dr.Mangla's. The doctors are extremely knowledgeable and very professional in their work. I had tough time eating food and often felt frustrated but now eating is fun again. Thanks and God Bless."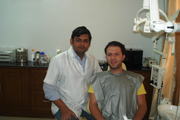 Mr. Francis (Netherland)
"Awesome!!!" is how I explain my visit at Dr. Mangla's. The moment I stepped in the clinic, I thought that this is the right place. The doctors analysed my teeth and treatment needs thoroughly with all their latest gadgets. At every step I was explained what and why things were done and I am sure that I have received the best quality dental work in my mouth. Keep up the Good Work Doc…
Mrs.Kalpana Arora
"I have recieved excellent professional care at Dr. Mangla's dental office. I got dental implants done at Dr. Mangla's. Dr. Mangla was thorough in all facets of my procedures. I felt very comfortable and confident knowing I was in well trained hands. You can feel confident with the dental care you will receive. I refer my family and friends for their dental care, to Dr. Mangla."
Mrs. Dena (Canada)
"My profession needs lot of speaking. I could not smile at my work place due to my bad teeth. A friend suggested me that I must visit Dr.Mangla. He did my complete smile makeover like a magician and now colleagues at my place say- are u the same lady who smiled miserly? I thank Dr.Mangla from bottom of my heart and wish him good luck."
Mr.Ritesh Singla
"I am so happy and proud of my new teeth. Before, during and after the full mouth Implants placement I feel very comfortable and relaxed. It has been more than three years and i am having no problem. Dr. Mangla has impressed me with his patience, thorough knowledge and gentleness in work. I take home nothing, but good memories and beautiful smile. Thank you, Dr. Mangla for changing my life."
Mr.Himanshu Khurana
"I was so conscious of smiling earlier, until I got my teeth done with these smile specialists - Dr.Asheesh & Dr. Aarti Mangla. I am much more confident smiling now.The ambience at Dr.Mangla's is very relaxing and soothing, whilst I am treated without any pain.The result is people asking why I smile so much now."
Thank you so much.
Mrs.Meena Bhardawaj
"The moment I walked through the door at Dr. Mangla's, I was treated as a member of the family. The care, professionism and patience of the doctors by far exceeded any previous dental work, I have experienced over the years. Dr. Asheesh & Dr. Aarti impressed me so much with their skill, precision and materials used."
Mrs.Renu Verma
There is dentistry and then there is artistry. Dr. Mangla's provided me with outstanding dental care that remedied my functional and cosmetic needs. They provided me with the utmost personal attention and high calibre care. My dental problems are solved and I am grateful for their attention to detail.
Mr.Sukumar Tripathi
"I have been a patient of Dr. Mangla's since a long time. Their knowledge and expertise in the latest procedures of dentistry, friendly nature and patient hearing creates an atmosphere of relaxation and certainty that, as a patient, you are in good hands."
Mr. A.B.P. Mishra
"Thanks Dr. Mangla for the outstanding dental work that you provided for me. I appreciate your thorough analysis of the procedures that has improved my bite and oral health. You were always available to answer questions and to fulfill my dental needs. I am confident that I have received the best dental services available. Thank you for the superb quality of service and politeness.
Miss Ishita
"What a pleasure to engage a dental practice that believes in responsible dentistry. Dr. Mangla is so very confident and has commendable knowledge. I have full confidence and trust in his abilities and I enjoy the personal attention I receive. You're the one and only dental practice for me.
Mr.Gaurav Narang
Besides being a skilled professional, Dr. Mangla has been a wonderful friend, always going above and beyond what was needed. I'll never forget the time I was having a problem and was seen immediately and he worked hard to solve my problem. Your persistance really paid off. God bless him always and in every way.
Mrs.Aanchal Singh
I am honored to write this testimonial for Dr. Mangla. I have been her patient since a long time and she has always taken care of every problem that I have had. With serious dental problems, I was told about Periodontist. Dr.Aarti Mangla, by another doctor. She saved my teeth when everyone else had given up on my case. I am completely happy with the results she has given me and my husband. She has extraordinary skill, knowledge and talent. I am highly thankful to her.
Mr.Arun Sinha
It is with great pleasure that I can write a "testimonial" to the wonderful quality of dental work which I have experienced. I feel certain, with a less skilled practitioner, I would at this moment be wearing full dentures, rather than having a dazzling smile full of restorations and implants.I have always been impressed with the gentleness of their work. I enjoy coming to Dr. Mangla's clinic and I know I will receive quality dental care. I feel like part of the "family".