ADVANCED TECHNOLOGY
Our clinic is well equipped with modern dental chairs, providing great comfort and optimal hygiene control. The clinic is equipped with fully digitalized radiology and state of the art equipments.
We at
Dr.Mangla's Dental Clinic
have the latest Super Hi-Tech facility of preserving "Dental Stem Cells" for You and your Child.
The latest advanced equipments allowthe experts at
Dr.Mangla's Multispeciality Dental & Implant Clinic
, to diagnose precisely and offer you a treatment plan immediately. Accurate diagnosis leads to effective, minimally invasive treatments. Diagnostic equipment detects tiny abnormalities so the correct diagnosis minimizes or eliminates the need for future invasive treatments. Advanced, eco-friendly digital X-ray units minimize radiation exposure and detect abrasions in their earliest stages.
Some of the more popular technologies include:
Kodak Digital Intra-Oral X-Ray Imaging System (France)
» Digital X-ray can be taken "
in house
" to capture dental images through a sensor that processes the image onto a computer screen, resulting in convenience and flexibility for patients.
» Digital images are stored on the computer under the patient's profile and can easily be accessed without the need for transporting or storing X-ray films.
» Digital images can be
magnified up to 300 X
to reveal cavities and other abnormalities in their earliest stages
» Open design allows for more patient comfort as images are being taken
» Allows for
immediate and accurate patient
diagnosis resulting in "on-the-spot" solutions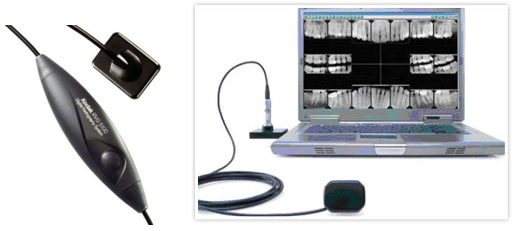 » Advanced sensor allow high resolution digital images to be enhanced,
increasing precision
of diagnosis and surgical procedures.
» Short X-ray pulses
reduce radiation
exposure by 90%.
» Digital technology eliminates the need for any hazardous development chemicals.
»
Eliminates waiting time
between diagnosis and treatment and reduces treatment time, thus ensuring
patient convenience
.
Mouth Scanning Device
Our clinic is equipped with world's latest Mouth Scanning device/Intraoral Camera which on flat screen shows all dental diseases to the patient.The device which we are using generates images of remarkable sharpness and clarity thus offering the large depth-of-view necessary for both intra- and extraoral images. From full arch to macro views, the device delivers consistently clear, high-resolution dental digital photography images that can be shared with patients. So, It is excellent guide & knowledge provider to patient to understand his/her dental problems.This device also helps you to learn more about dental hygiene practices, including where to focus on brushing your teeth.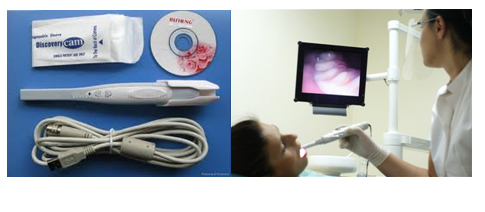 Root ZX II Apex Locator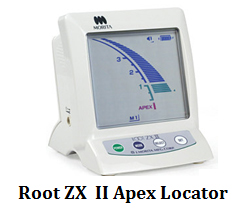 The
Root ZX II
Apex Locator is world's best selling apex locator which offers enhancements for the latest in Root Canal Treatment. This is a device used to locate the terminal part of the tooth root, that is its Apex and further measure the length of the existing canals, to accomplish successful Root Canal treatment.
X-SMART™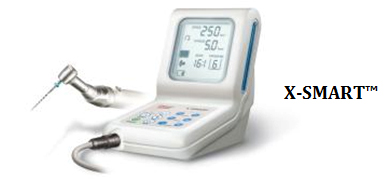 The
X-SMART™
is an endodontic micro-motor, specifically designed to drive NiTi rotary instruments (the instruments used to prepare your tooth for root canal treatment) The X-Smart™ is a user friendly, compact and latest gadget existing in the international market, adapted to the needs of an endodontic practice. There is a clear LCD screen that is angled for easy visualisation during preparation. It indicates the various settings that have been chosen by the operator: speed, torque, gearing, direction of rotation, program (nine in total), auto reverse setting and gives a real-time read out of the load being applied to the instrument in the form of a graduated bar. There are also battery charge and audible warning indicators.
Endo Activator for Root Canal Treatment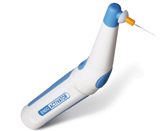 The Endo Activator is a sonic device used to 'activate' the irrigation solution to assist in cleaning and disinfection of canals after shaping with hand or rotary files. Simple to operate, the EndoActivator integrates into a clinician's current Endodontic technique without complication and assists in improving debridement and disruption of the smear layer and biofilm. A cleaned root canal system facilitates three dimensional obturation, which logically promotes improved Endodontic outcomes.
Satelec P5 BoosterScalers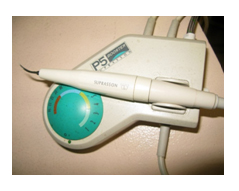 The Satelec is one of the most compact ultrasonic units. The user of the Satelec fully benefits from the precision and power of the original Piezon technology
» quick, quiet, precise and powerful
» gentle, painless and comfortable
» High precision made by swiss company
» Swiss engineered tips create the perfect spray pattern
Bone Replacement
There are three types of bone replacement used to assist people suffering from bone loss or those requiring extraction:
»
Autogenous Man Made Bone Replacement:
A synthetic freeze dried material that is made in the laboratory.
» Bone Replacement from bovine origin: Bone that is preserved, processed and sterilized from a deceased individual or animal source.
» Grafting Bone Replacement: Bone taken from another area of the body, such as the iliac crest section of the pelvis.
Platelet-rich growth factors can help induce rapid bone growth and healing. It is used in bone replacement and offers rapid healing properties. Bone replacement performed by clinicians today is more refined than in the past and can be more easily assimilated into the existing bone structure.
CAD/CAM Technology
CAD/CAM (computer assisted design, computer assisted manufacture) technology allows for the fabrication of dental restorations through computerized technology. We provide you with CAD/CAM tooth restorations . These procedures include: inlays, onlays, porcelain veneers, dental crowns, Implant Crowns and dental bridges.
Dental Implants
Dental Implant Technology continues to improve. Mini-implants can now accommodate small tooth replacements. The bio-integration of the titanium tooth root with human bone is completely predictable. The results are very long lasting. The industry has also focused on reducing treatment time and some implants can be placed immediately after tooth extraction as opposed to waiting six months after extraction. In many instances, dental implants are now the standard of care if a tooth needs to be extracted or if there is a question as to whether a root canal procedure should be done.
Invisaligns

Super modern technology to treat Irregular & Crooked teeth is right here at Dr.Mangla's Dental Clinic that is "Invisaligns"
these are a series of clear, removable teeth aligners that orthodontists use as an alternative to traditional metal dental braces. The most obvious Advantage of the treatment is that they are highly cosmetic. the aligners are completely transparent, therefore far more difficult to detect than traditional wire and bracket braces. This makes the method particularly popular among adults who want to straighten their teeth without the look of traditional metal braces, which are commonly worn by children and adolescents.
Fiber Optic Hand Pieces
Fiber Optic hand pieces assist in tooth preparation procedures and can be used with diamond cutting instruments. Excellent focus of beam of light offers a convenient delivery of quality treatment which puts less stress on the healthy tooth structure. In this way treatment is done much faster in shorter appointments.
Loupes
The use of Loupes in dentistry has been one of the latest trends to perfect acute vision for dentists. Magnification offer dentists the ability to see micro-cracks, weakened underlying tooth structure and the proximity of the dental nerves with precise accuracy. They also offer more accuracy in removing affected tooth structure while preserving healthy tooth structure. It is an improved diagnostic tool as well as a treatment-assist dental tool.